This review is about the Made By Me Specials Colorsplash Cake from Action. In this blog post we will list the specifications of the yarn, what we think of this yarn and some projects you could make with this yarn.
Deze garen review gaat over de Made By Me Specials Colorsplash Cake van Action. In deze review hebben we het over het garen, wat wij van het garen vinden en een aantal projecten waarbij je dit garen kunt gebruiken.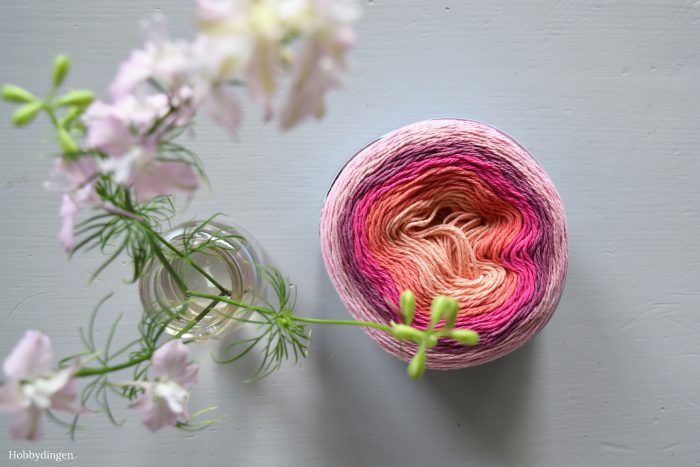 About the yarn
Made By Me Specials Colorsplash Cake is a 100% cotton yarn currently available for €2,99 each in 4 different color combinations. This cake has 306meters/335yards and weighs 142grams/5ounces. Suggested needle size is 4-4,5mm. The yarn is quite sturdy and not so soft. We would only use this yarn for decorations and not for shawls. While crocheting it works best not to pull the yarn too far out of the cake as this may result in curling of the yarn.
Over het garen
Made By Me Specials Colorsplash Cake is een garen gemaakt van 100% katoen. Momenteel verkrijgbaar voor €2,99 per stuk in 4 verschillende kleurencombinaties met per bol 306 meter en 142 gram. De aanbevolen naaldgrootte bij dit garen is 4-4,5mm. Het garen voelt stevig aan en niet erg zacht. Waarschijnlijk is dit garen minder geschikt voor een sjaal of omslagdoek. Tijdens het haken werkt het beste om de draad niet te ver uit de bol te trekken, want dat kan de draad omkrullen.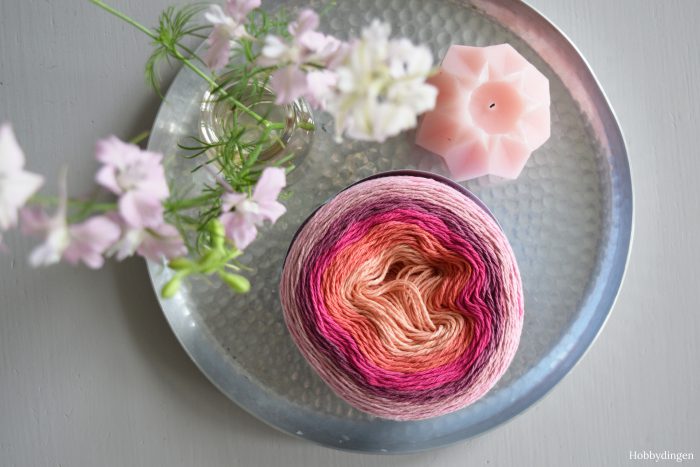 Colors
The cake has 5 different colors. From light orange on the inside to light pink on the outside. The are three more color variatons available. The fun part of using yarn cakes is that you can start working from the inside or outside to get the desired color scheme.
Kleuren
Deze cake heeft 5 verschillende kleuren. Van licht oranje in het midden tot licht roze aan de buitenkant van de cake. Naast deze kleurencombinatie zijn er nog 3 variaties te koop. Het leuke aan 'yarn cakes' is dat je zelf de volgorde van de kleuren bepaalt door aan de binnen- of buitenkant van de cake te beginnen.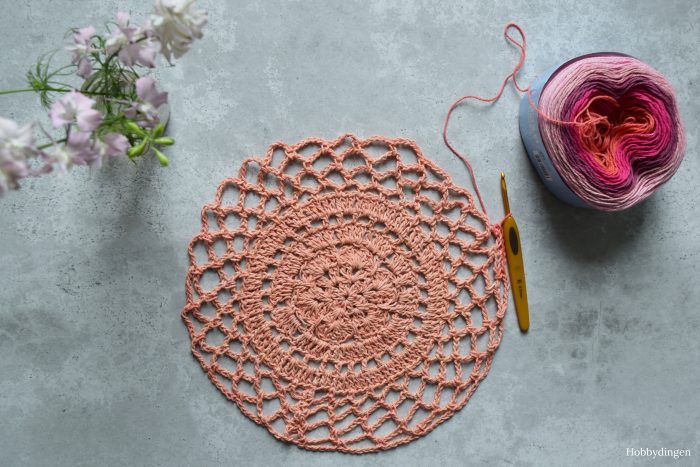 Projects you can make with this yarn
Because of the feel and texture of the yarn one of the first thing we thought of was a market bag. The yarn is quite sturdy so perfect for bags or home decorations like coasters and mandalas. We are making the Rustic Market Bag with this cake.
Projecten waarvoor dit garen gebruikt kan worden
Dit garen is een stevig katoenen garen dat waarschijnlijk erg geschikt is voor een tas. Andere ideeën zijn onderzetters en een mandala. Wij gebruikten het patroon voor de Rustic Market Bag voor het haken met deze cake.
We love trying new yarns! We love the colors of this yarn. The texture is perfect for a market bag. Would you use this yarn?
Wij vinden het leuk om nieuwe garens uit te proberen! De kleuren van dit garen zijn erg mooi. Echter is het garen meer geschikt voor het haken van tassen en decoraties. Heb jij dit garen al uitgeprobeerd?
Have a creative day!
Ingrid & Marjan