I absolutely love making dreamcatchers! A couple years ago I even designed a pattern for a Crochet Along 🙂 One day I want to update the old pattern, take new pictures and rewrite the pattern. If that's finished then I want to share the pattern or host a new Crochet Along! So far I've made a few dreamcatchers and in this post I'll be discussing some of the basics of making a dreamcatcher. If you have any questions please leave them below or join our Dreamcatcher Facebook group. 
Dromenvangers maken is leuk! Een paar jaar geleden heb ik zelfs een ontwerp gemaakt voor een crochet along 🙂 Ik wil dat patroon nog eens herschrijven en nieuwe foto's maken. Wanneer dat klaar is wil ik het patroon delen of een nieuwe crochet along houden! Ik heb al een aantal dromenvangers gehaakt en in dit blogbericht bespreek ik een aantal belangrijke tips. Heb je vragen? Laat een reactie achter op dit bericht of word lid van onze Dromenvanger Facebookgroep.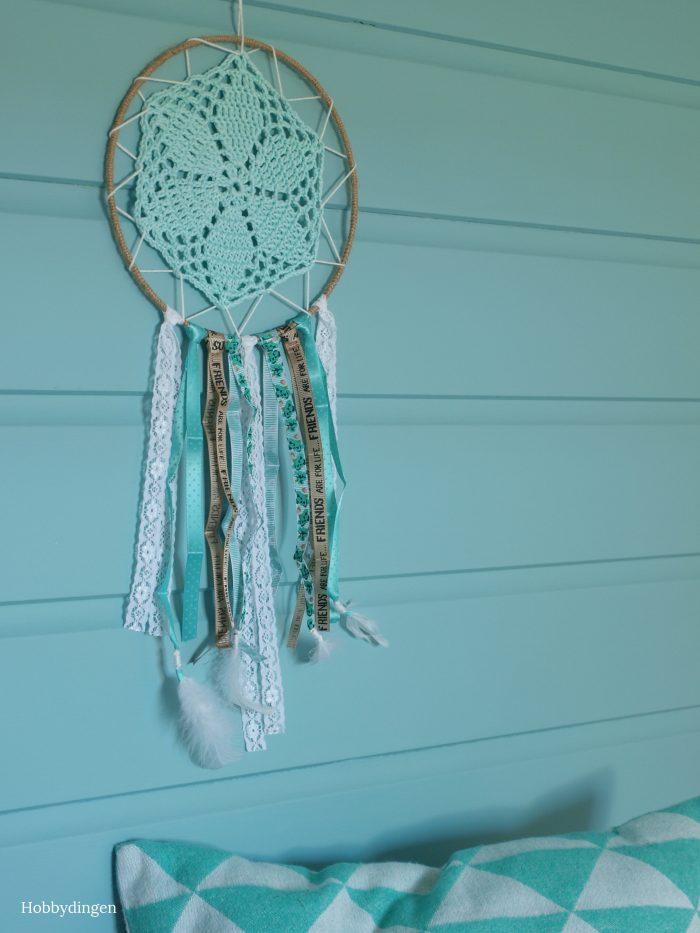 1. Materials
Make sure to use good quality yarn! So far I have only used cotton sport weight yarn for my dreamcatchers. I like how the yarn, colors and used stitches create a gorgeous dreamcatcher! One of our favorite brands of cotton is Phildar Coton 3. It comes in so many great colors! I like to have a great quality product. Besides cotton you can add ribbons, feathers, rope and other embelishments you like. I get excited thinking about all these possibilities!
Gebruik een goede kwaliteit garen! Ik gebruik eigenlijk alleen katoen voor dromenvangers. Hierdoor kan ik een mooie dromenvanger maken met mooi garen, mooie kleuren en de gebruikte steken. Een van ons favoriete garenmerk is Phil Coton 3. Er zijn zoveel mooie kleurtjes van! Naast het garen kun je ook nog lintjes, veren, touw en andere dingen toevoegen. Ik word al helemaal enthousiast als ik denk aan alle mogelijkheden! 
2. Take your time!
It is better to spend some more time working on a project and ending up with an item that you love. Rather than when you finish it quite quickly and are not happy with the outcome. So please take your time 😉 If you need help with a pattern or project ask your question in our Dreamcatcher Facebook group or in the comments below.
Je kunt beter wat langer ergens mee bezig zijn en een fantastische dromenvanger maken. Dan je haakwerk af te rafelen. Neem je tijd 😉 wanneer je hulp nodig hebt kun je hieronder reageren of lid worden van onze Dromenvanger Facebookgroep.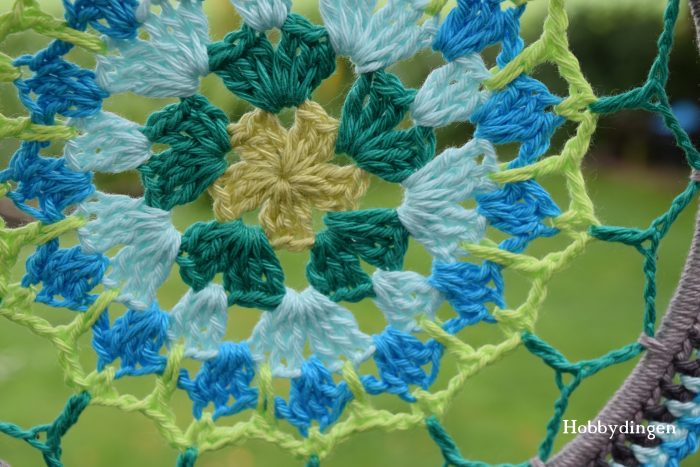 3. Attaching the doily
Last but not least ánd probably the most important thing when making dreamcatchers! Make sure you get the doily in the ring tight! This is a really important aspect of making dreamcatchers. If you do not attach the doily tight, after some time you will see that the crocheted piece will start hanging in the frame.
Het meest belangrijke wanneer je dromenvangers haakt is het vastmaken van het haakwerk aan de ring! Het is erg belangrijk dat het haakwerk strak in de ring komt. Als je dit niet doet gaat het kleedje na een tijdje in de ring hangen. 
My most favorite dreamcatcher
One of my favorite dreamcatchers is the blue and green dreamcatcher. I used different stitches and colors for this design and made sure I attached it to the ring quite tight. You can buy the pattern for this dreamcatcher on Ravelry, Etsy, Lovecrochet and Craftsy.
Een van mijn favoriete dromenvangers is de blauw en groene dromenvanger. Ik gebruikte verschillende steken en kleuren voor dit ontwerp en heb ervoor gezorgd dat het haakwerk strak in de ring gespannen is. Je kunt het patroon kopen op Ravelry, Etsy, Lovecrochet en Craftsy.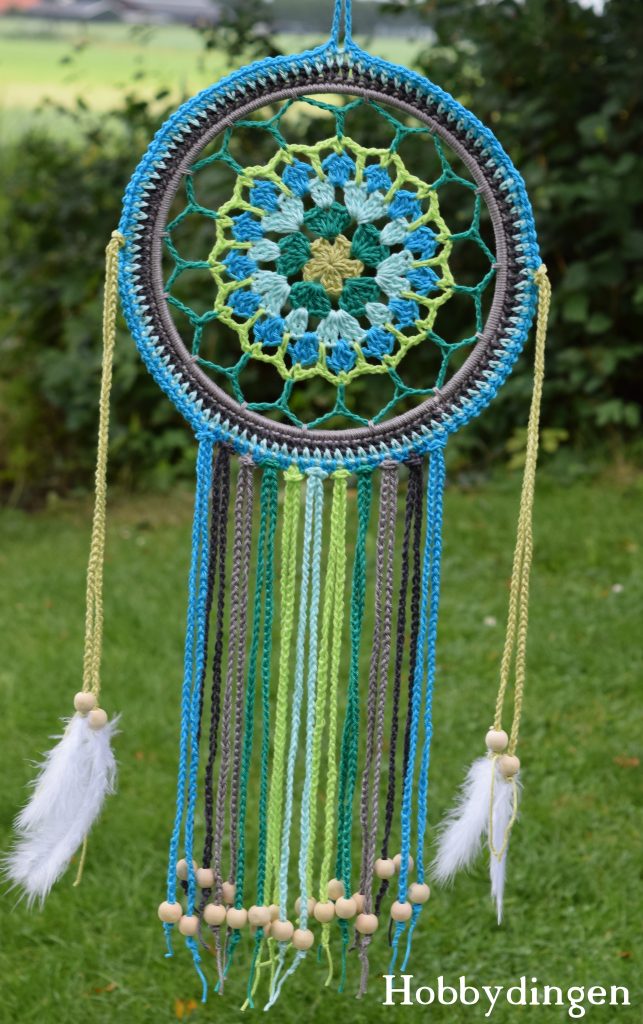 Find a pattern or get inspired!
Want to be surprised? Click here or here for free patterns I found online. Or go to our Dreamcatchers Pinterest board.
Wil je verrast worden? Klik hier of hier voor gratis patronen die ik online vond. Of ga naar ons Dromenvanger Pinterest bord. 
Have you ever crocheted a dreamcatcher?

Heb jij al eens een dromenvanger gehaakt?
Have a great day!
Marjan
---
Share your creation with #hobbydingen on social media!