Discovering new yarn is really nice, trying them is even better 🙂 On Instagram I saw that there was a new yarn and I couldn't wait to try it! I ordered all the colors of the new yarn Drops Loves You #9. It's a sturdy sport weight cotton yarn. This yarn is made from recycled cotton and comes in all these nice colours. I had to take some pictures ;). They are perfect for my new project.
Nieuw garen ontdekken is erg leuk, maar proberen is nog leuker 🙂 Op Instagram zag ik dat er een nieuw garen van Drops was, Drops Loves You #9. Ik werd helemaal enthousiast van de mooie kleuren en de prijs. Het is een stevige draad van gerecycled katoen. Alle kleuren zijn gewoon prachtig. Perfect katoen voor mijn nieuwe project.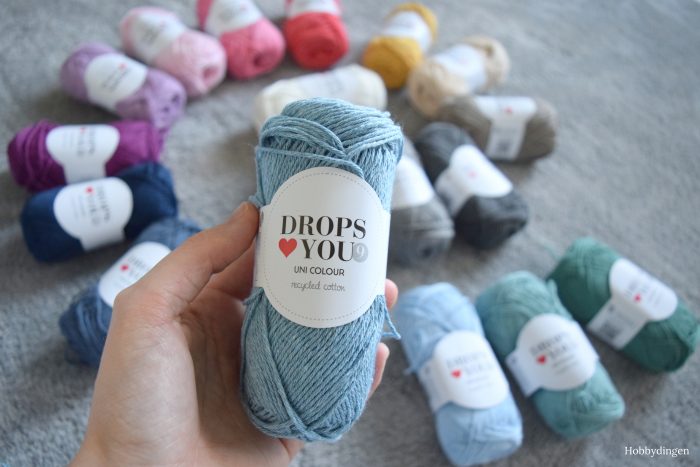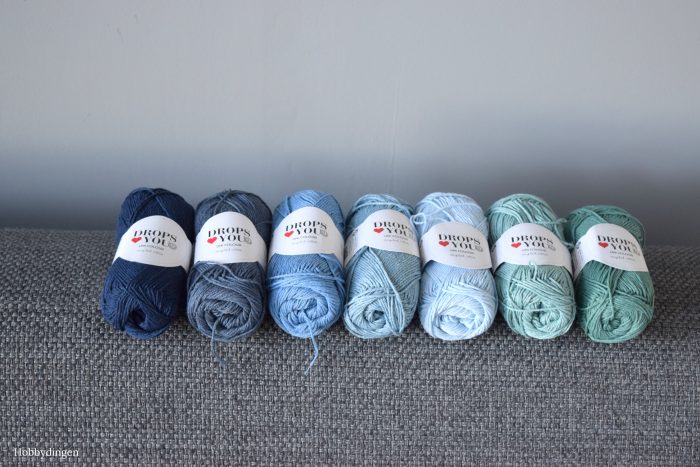 I used some of the blue yarn to make a dreamcatcher. I like making doily's and turning them in something unique. First I tried crocheting the doily to the ring with jute, but I did not like the look of that. So I switched to a lighter blue and attach the doily to the ring again. It's not finished yet but I love the colors! It still needs some ribbons and feathers. Should I share the pattern when I'm finished?
Ik gebruikte twee verschillende kleuren blauw garen voor het maken van een dromenvanger. Eerst heb ik geprobeerd om met jute de doily in de ring te haken, maar dat werd niet mooi. Dus heb ik een lichtere blauwe kleur gebruikt voor het vast haken van het haakwerk in de ring. Deze dromenvanger is nog niet helemaal af, maar ik vind de kleuren al erg mooi! De draadjes moeten nog weggewerkt worden en er moeten aan de onderkant nog lintjes en veren. Zal ik het patroon delen wanneer mijn dromenvanger af is? 
I love the combination of stitches, it is like a flower in the middle of a star. I can't wait to finish it and take some more photo's of this dreamcatcher.
De combinatie van steken is erg leuk. Het is net een bloem in het midden van een ster. Ik kan niet wachten om de dromenvanger af te maken en een paar leuke foto's te schieten. 
What are you working on?

Met welk project ben jij bezig?
Have a creative day!
Marjan